[ad_1]

Northern British Columbia has stunning scenery filled with a wilderness of grizzly bears, pristine glaciers and raw rugged beauty. Out of the vast land of white water, creeping glaciers and dense, ancient forests come plentiful opportunities for outdoor recreation, where snowmobilers are treated to alpine mountains and crystal-clear lakes.
Amidst the countless rivers and streams, the landscape is inhabited by untamed wildlife and is framed by picturesque backdrops. Lofty snow-capped mountains and deep plunging valleys will surround you as you guide your snowmobile through the landscape. Like a large outdoor playground, the north has a wealth of wilderness recreation for those who come to play in the pow. Sledding through Northern B.C. offers a glimpse into untouched wilderness.
Here's a list of the top 10 best places to go snowmobiling in Northern British Columbia: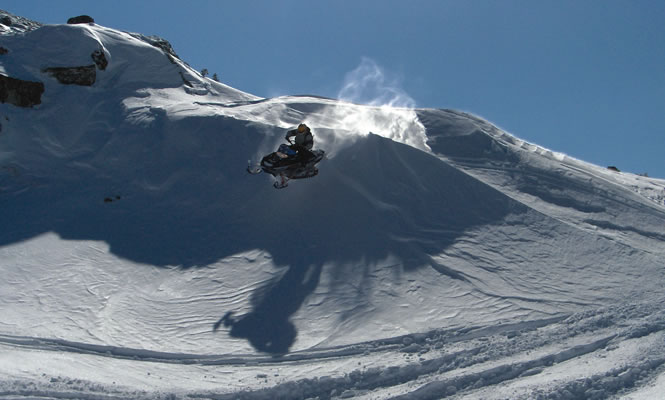 At Beaver Creek near Chetwynd, B.C., Fred Wiebe takes a jump off a snowy bank for a soft landing in the powder below.
Photo courtesy Darin Janzen
Chetwynd is a welcoming community that boasts mountain snowmobiling at its best—and offers riding experiences for every level. The quaint town also has great dining and accommodation facilities, as well as an aquatic centre with a wave pool and gigantic hot tub, which is the perfect place to wind down after an exciting day out on the mountains.
"We have such a wide variety of terrain for snowmobilers to enjoy," said Vanheddegan, past president of the Pine Valley Trail Blazers. "We are near the foothills of the Rockies, so we have open cutblocks, rolling meadows, high alpine and just a lot of places to explore—but I think it's our phenomenal snow that keeps everyone coming back year after year."
Whether hitting up a small network of mapped trails or ploughing through meadows of deep powder, the country surrounding Chetwynd offers terrain and conditions for all levels.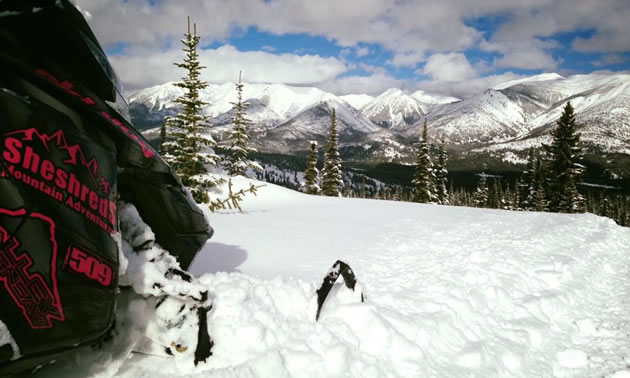 "There are lots of meadows to bash, tons of fun, natural features to hit and some sweet tree riding," said Gen Byl, born and raised Dawson Creek resident.
Photo courtesy Gen Byl
Snowmobiling in Dawson Creek is always a great time. With epic terrain and sledding trails that would appeal to any rider, this community is the ideal winter recreation destination.
"Dawson Creek is awesome in the sense that we are right smack dab in the middle of so many spectacular riding areas," said Gen Byl, born and raised Dawson Creek resident. "If anyone feels like cruising the trails, our club (the Paradise Valley Snowmobile Association) maintains a large network of trails south of Dawson Creek."
For the backcountry addicts like Byl, there is Core Lodge, Hasler, Powder King, Beaver Creek, Old Friend and The Calazon.
"All these areas offer a diversity of terrain," she said. "But each one has its own special quirk! The best part is that these areas don't get crazy, stupid busy so there's always fresh powder to be found somewhere."
One of her all-time favourite zones is Powder King, which is in the Pine Pass between Dawson Creek and Chetwynd.
"There are lots of meadows to bash, tons of fun, natural features to hit and some sweet tree riding," she said.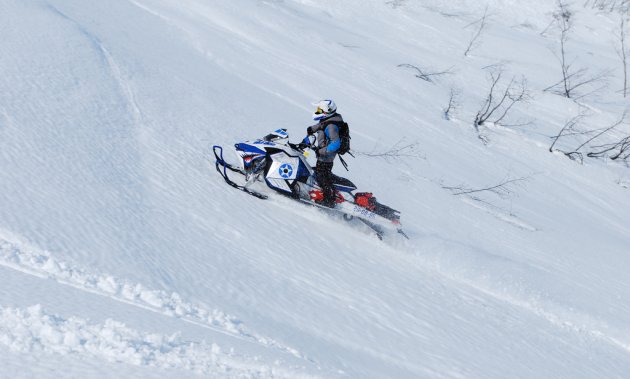 Fort Nelson offers a number of prime snowmobiling trails.
Photo courtesy Rick Seidel
Located at Mile 300 on the Alaska Highway, the community of Fort Nelson is one of B.C.'s northernmost snowmobiling zones. You can see all kinds of wildlife and jaw-dropping scenery while snowmobiling on these fantastic northern routes. Wildlife lovers will enjoy seeing the abundance of animals that come through Fort Nelson in winter, including elk, moose and caribou.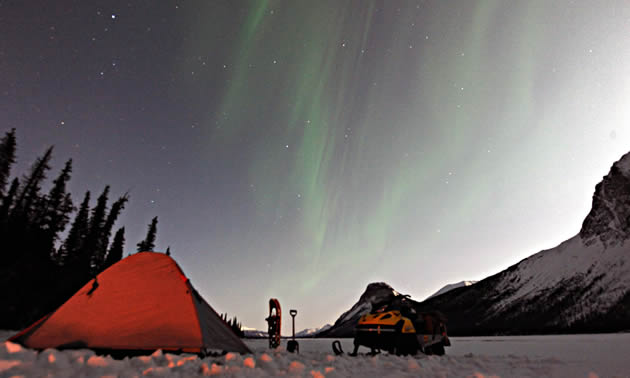 Fort St. John is one of the best places in B.C. to view the aurora borealis or northern lights. In the winter, around midnight is the best time to see them.
Photo courtesy Peter Bueckert
When it comes to snowmobiling in B.C., Fort St. John is a bit of an anomaly. Located on a broad plateau in the Peace River Valley, this city is surrounded by foothills, lakes, rivers and a staggering amount of snowmobile trails—over 600 kilometres of trails in all.
The Rocky Mountains can be viewed in the distance, but most of the sledding around Fort St. John takes place in the lower elevations, which means there are no avalanches to worry about.
Fort St. John is a great place for families to go sledding—and there are a lot of young families here. Most of them prefer riding the Stewart Lake area where there are over 300 kilometres of accessible trails. The Northland Trailblazers snowmobile club grooms about 40 kilometres from the trailhead to the lake. Club members also look after a cabin on the lake.
So if you're looking for a warm welcome, northern scenery and snow that's safely accessible, give Fort St. John a try. It may just be the kind of B.C. sledding that will bring you and your family back for more.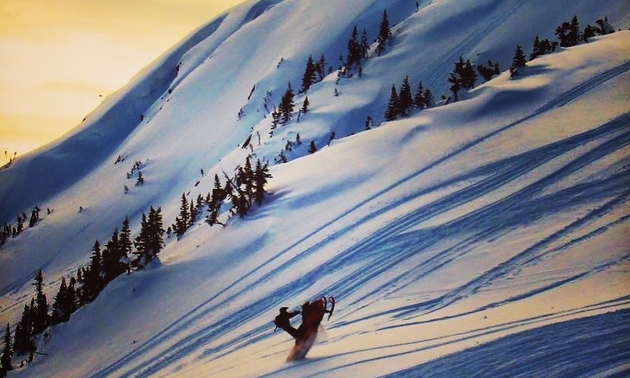 Shea Long roostin' in the Shoot-Out in the Telkwa Range just outside of Houston.
Photo courtesy Shea Long
Located four hours northwest of Prince George in the northern interior of B.C. is the forestry, mining and tourism town of Houston. Known as the Steelhead Capital of Canada, Houston proudly boasts the world's largest fly-fishing rod. More importantly, though, Houston is known for its world-class snowmobiling. In 2016, it was named champion of SnoRiders' SledTown ShowDown competition. This community is surrounded by beautiful forests and mountains, so it offers a wide variety of terrain with plenty of high-quality trails located within minutes of town.
Houston is home to some incredible mountain sledding opportunities, many of which are close to town. And since it lies in the shadow of the coastal mountains, Houston benefits from a mild winter climate and generous amounts of snow (approximately 160 centimetres annually). Here, the riding season usually starts in November and runs until late spring.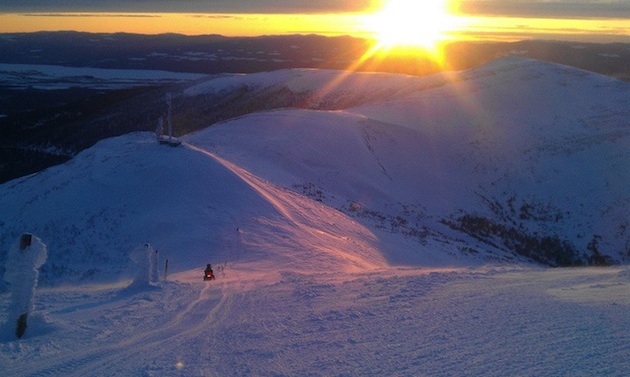 Riding into the sunset on Morfee Mountain near Mackenzie, B.C.
Photo courtesy Marlon Spooner
Mackenzie is located north of Prince George and south of Williston Lake reservoir, the largest man-made lake in British Columbia. Forestry and mining are the economic drivers. The skyline is dominated by Morfee Mountain, where the Rocky Mountain Riders snowmobile club maintains two cabins. The terrain around here can be challenging, but there are also plenty of places for families to play in the powder.
Snowmobiling usually starts in the month of November and runs clear into May, offering family-friendly trails and fresh powder for eager enthusiasts. Mackenzie is known for porch-to-powder access, and many destinations have staging from the townsite. There is a fenced and monitored compound next to the recreation centre in downtown Mackenzie, offering travelers safe and secure storage for their snowmobiles.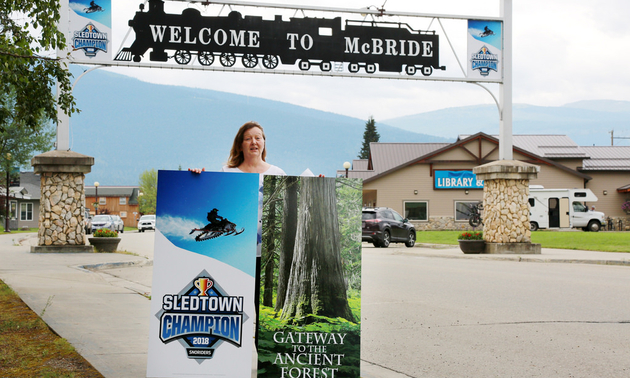 Loranne Martin, mayor of McBride, B.C., displays new signage downtown to promote the city's 2018 SledTown ShowDown victory.
Photo courtesy Rocky Mountain Goat News
Situated between the Cariboo Mountains and the Rockies, McBride provides snowmobilers with some amazing opportunities to ride the alpine. The McBride area offers spectacular scenery, an abundance of snow and fantastic sledding conditions. Hundreds of kilometres of groomed and ungroomed trails grace the area's beautiful landscape and provide hours of unforgettable snowmobiling adventures.
A couple years ago, McBride, B.C., took home the prestigious distinction of being declared SnoRiders' 2018 SledTown ShowDown Champion. As you can see from the photo above, Mayor Loranne Martin and the rest of McBride embraced the accolade by integrating SledTown Champion posters into their downtown marketing.
As our readers will attest, there's a whole lot to like about snowmobiling in this glorious village.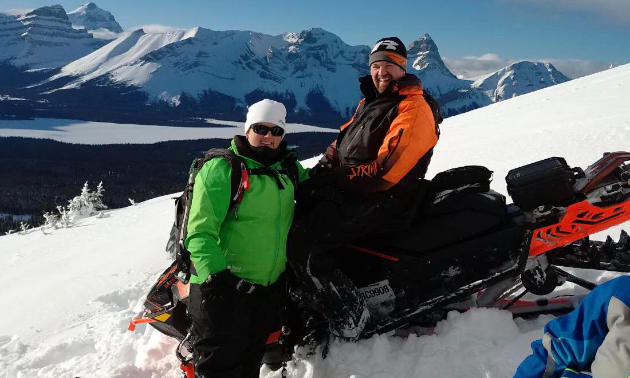 Breathtaking mountain vistas are one of the perks of sledding in Prince George.
Photo courtesy Les L'Heureux
This region's history includes one of the biggest gold rushes ever to hit North America. Today, the Prince George, Wells and Barkerville areas are experiencing a modern-day bonanza of sorts: this time it involves snow—white gold—and the shiny glint of snowmobiles. Prince George now boasts more than 300 kilometres of groomed and maintained trails to the south and about 150 kilometres of trails on the west side—and, of course, the 170-kilometre trail to Barkerville.
In Prince George, you can play in wide open meadows, pull big chutes, or you can get right into the trees and find some insane technical stuff.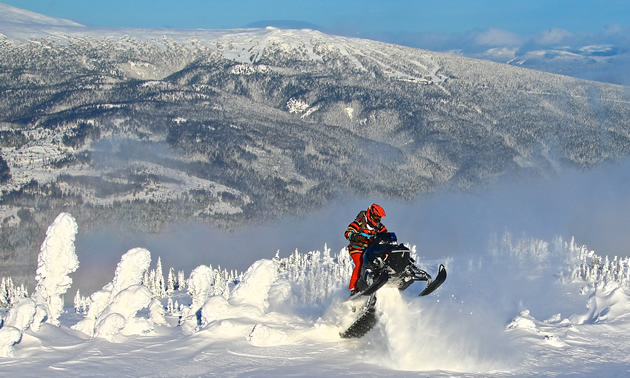 Raymond Marak revels in some fresh powder while sledding on Microwave Mountain near Smithers, B.C.
Photo courtesy Ville Virtanen
Few places embrace winter as passionately as the friendly town of Smithers. Smithers is a Swiss-alpine themed town in northwestern B.C. that's shadowed by the dramatic peaks of Hudson Bay Mountain and surrounded by three mountain ranges. It's a natural tourist destination. It's also one of the best places in B.C. to find deep, untracked snow, amazing alpine vistas and terrain that suits a wide range of snowmobilers—from trail riders, families and beginners who are just learning the ropes to seasoned big mountain riders, tree riders and frequent flyers.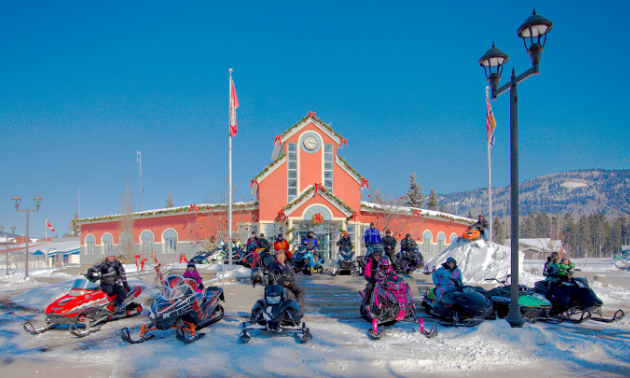 On a cold day late in winter, a group of sledders gathered at the Tumbler Ridge Town Hall to celebrate their SledTown ShowDown victory to recreate a 20-year-old photo.
Photo courtesy Bob Taylor
Tumbler Ridge may be a small town, but it's got some swagger. Don't blame the community members for walking with a strut in their step—they're the 2019 SledTown ShowDown champs, after all. Locals and visitors to the area are fully aware of how spectacular the setting is.
The Tumbler Ridge Ridge Riders Snowmobile Association's trail system encompasses more than 300 kilometres of trails. In addition, there are more than a dozen other sledding areas around the region that are only a short drive away. There is rugged backcountry terrain to please those with more advanced skills and groomed trails with easy riding for families or those just starting out. With alpine conditions bringing foot after foot of fresh snow and a sledding season that goes for six months of the year, it's no surprise that snowmobilers gather here.



[ad_2]

Original Post Click Here